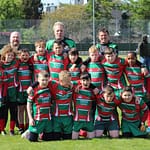 May 2015 was another busy month for the team at Midlothian Physiotherapy. We supported our local rugby club sponsoring one of the match balls in Dalkeith Rugby Football Club's mini rugby tournament on the 17th of May. All the boys and girls had a good time with plenty of fun and no injuries being reported.
Alistair went to the Scottish Sports and Exercise Medicine Symposium held by the Royal College of Physicians and Surgeons of Glasgow. A range of topics were covered including new guidelines covering the management of concussion, the mental health benefits of sport and physical activity, practical ways of promoting activity in people with diabetes, wrist and hand injuries, lessons learned from last years Commonwealth games in Glasgow, the incidence and prevention of injuries in Judo and the role of imaging in the management of musculoskeletal injuries.
Kevin went a study day run by the Scottish Manual Handling Forum. A wide range of topics were covered including the Scottish Manual Handling Passport and it's implementation, equipment and assessment tool workshops amongst other topics.
Our 2 day Sports First Aid course has been recognised by the Scottish Youth Football Association(SYFA)  and we are now a recognised course provider. This means that our course meets the requirements set out by the SYFA for training first aiders. The SYFA advises there is at least one such first aider present at every match.
On a personal note Alistair has set the bar high for his colleagues by running the Stockholm marathon in 3 hours and 31 minutes.